Aberdeen's family & staff welcome you to our casual waterfront dining experience overlooking the beautiful Manitowish Waters Chain of Lakes.
Gorgeous sunsets and wildlife sightings can be viewed from our dining room, private screened-in porch & our rustic sports bar.
Ambiance, mouth-watering food selections and outstanding service are what we strive for as you share your time & stories with us!
Cheese Curds – $8
Can't break tradition-you gotta have 'em Wisconsin White Cheddar Curds served with Ranch Dressing
Bruschetta – $8
Fresh diced Tomatoes & Basil with Parmesan, Olive Oil & Balsamic Glaze served on (6) toasted Baguette
Smoked Salmon Crostini – $9
(6) Baguette slices, toasted & topped with Atlantic Cold-Smoked Salmon, Cream Cheese, Dill & Green Onion
Walleye Fingers* – $13
Canadian Walleye, hand battered & fried, served with Tartar Sauce & Lemon
Blackened Salmon Cobb* – $17
Generous portion of Mixed Greens, Cucumbers, Onions, Tomatoes, Bacon & Blue Cheese Crumbles. Topped with 6 oz. Blackened Salmon Filet with choice of Dressing served on the side
Grilled Romaine Wedge* – $8
Artisan Romaine Wedge grilled & topped with Bacon, Tomato, Croutons & Chunky Blue Cheese
Fresh Garden Salad – $4
Dressing Choices: French, Italian, Ranch, Bleu Cheese, Sesame Vinaigrette
Hungarian Mushroom Soup
Aberdeen's version of an old-world favorite
Cup – $4
Bowl – $7
Crawfish Chowder
Friday ONLY
Cup – $5
Bowl – $8
Southern Hospitality Chili
Cup – $4
Bowl – $7
Toasted Sliced Baguette - $4
By customer request, Aberdeen has added this option for those that would like Bread
Spanish Duck – $25
Oven roasted Duck on a bed of Spanish Rice topped with a Jalapeno Cream Sauce & fresh Pico de Gallo, served with Seasonal Vegetable
BBQ Ribs – $19
Half Rack prepared with Aberdeen's Original Dry Rub, grilled, then glazed with BBQ Sauce. Served with Seasoned Waffle Fries & Seasonal Vegetables
Chicken Parmesan – $17
7 ounce chicken breast, hand breaded and fried, served on a bed of linguini with house marinara & topped with Parmesan Cheese

Center Cut Filet* – $25
6 ounce Center Cut Filet grilled to order and served with a Baked Potato & Seasonal Vegetables
Choice Ribeye* – $27
12 ounce Choice Ribeye grilled to order and served with a Baked Potato & Seasonal Vegetables
Blackened Salmon Teriyaki* – $18
6 ounce Salmon Filet, blackened with a Teriyaki Glaze, served on a Stir-Fried bed of  Wild Rice, Celery, Onion & Carrots

Baked, Blackened or Fried Walleye* – $22
(2) Walleye Filets served with Wild Rice and Seasonal Vegetables

Aberdeen's Legendary "Fish Fry"* – $12
Beer Battered Cod, served with our Seasoned Waffle Fries, Spicy Cole Slaw & homemade Tartar Sauce
"Friday's Only" Fish Entrees*
Po' Man's Lobster* – $15
Baked Cod, smothered in a light Buttery Sauce. Served with Wild Rice and homemade Spicy Cole Slaw
Blackened Cod* – $16
(2) 6 oz. Cod Loins blackened then served with Wild Rice & Spicy Cole Slaw
Fried Lake Perch* – $18
Fried Lake Perch served with Aberdeen's homemade Tartar Sauce, Spicy Cole Slaw & our Seasoned Waffle Fries.
Crawfish Chowder
Cup – $5
Bowl – $8
Aberdeen's "Saturday Night" Prime Rib*


Prime Rib*
Seasoned Prime Rib sliced to order & brought to customer's desired temperature in Aberdeen's home-made Au Jus. Served with Baked Potato, Seasonal Vegetables & Au Jus
King cut 14-16 ounces – $27
Queen cut 12-14 ounces – $23
Cheeseburger* – $10
1/2 lb. Burger. Served with Lettuce, Tomato, Pickle & Onion. Topped with your choice of Cheddar, Swiss, or Pepper Jack Cheese. Served with Seasoned Waffle Fries
French Dip* – $15
Shaved Prime Rib marinated in Au Jus, layered with melted Provolone Cheese on a toasted Hoagie Bun. Served with Seasoned Waffle Fries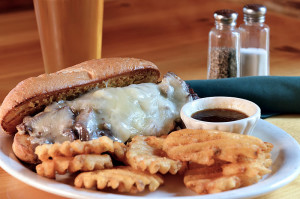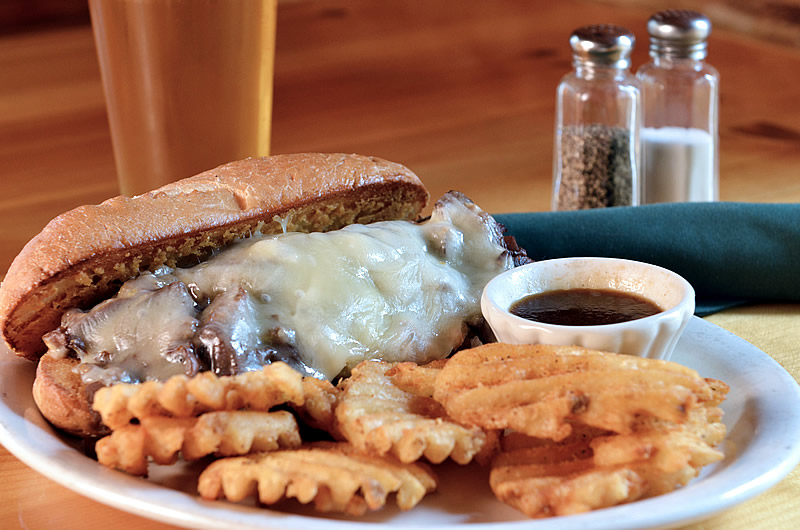 Shrimp Nachos* – $12
Nachos with southern flair you will absolutely love! Flash Fried Shrimp, House Pico de Gallo & a sweet Thai Chili Sauce completes this cheesy mound of heaven
Chicken Sandwich* – $10
Grilled or Fried Chicken Filet with Lettuce, Tomato, Pickle & Onion. Served with Seasoned Waffle Fries
Cran-Brulee' – $5
Served with our home-made Cranberry Grand Marnier Reduction Sauce
Peanut Butter Chocolate Daydream – $7
Gluten-free Peanut Butter & Chocolate Silk delight
Bread Pudding – $7
Topped with your choice of home-made Whiskey Sauce or Praline Sauce
Vanilla Ice Cream – $3
Sundae - Add $1
Turtle - Add $2
Extra Piece of Fish for Fish Fry* $4
(2) Extra Pieces of Perch* $7
Seasoned Waffle Fries, Baked Potato, Wild Rice, Seasonal Vegetables & Spicy Cole Slaw $2
Coke, Diet Coke, Sprite, Diet Sprite, Dr. Pepper & Fuze Raspberry Tea $2.50
Tea, Coffee, Lemonade, & Milk $2.50
Root Beer, Water (Bottle) $3
This menu is served during the day before 4pm.
Cheese Curds – $8
Can't break tradition-you gotta have 'em Wisconsin White Cheddar Curds served with Ranch Dressing
Bruschetta – $8
Fresh diced Tomatoes & Basil with Parmesan, Olive Oil & Balsamic Glaze served on (6) toasted Baguettes
Aberdeen's Boneless Wings*
Great tasting, hand cut boneless Chicken Wings served with celery
Plain, Honey BBQ or Buffalo
6 – $7
12 – $14
Walleye Fingers* – $13
Canadian Walleye, hand battered & fried, served with Tartar Sauce & Lemon
Hungarian Mushroom Soup
Aberdeen's version of an old-world favorite
Cup – $4
Bowl – $7
Southern Hospitality Chili
Cup – $4
Bowl – $7
Fresh Garden Salad – $4
Dressing Choices: French, Italian, Ranch, Blue Cheese, Sesame Vinaigrette
Caesar Salad* – $8
Traditional Caesar tossed with Parmesan Cheese & Croutons. Make a meal of it with Chicken ($13) or Salmon ($15)
Grilled Romaine Wedge* – $8
Artisan Romaine Wedge grilled & topped with Bacon, Tomato, Croutons & Chunky Blue Cheese
Cheeseburger* – $10
1/2 lb. Burger. Served with Lettuce, Tomato, Pickle & Onion. Topped with your choice of Cheddar, Swiss, or Pepper Jack Cheese. Served with Seasoned Waffle Fries
Chicken Sandwich* – $10
Grilled or Fried Chicken Filet with Lettuce, Tomato, Pickle & Onion. Served with Seasoned Waffle Fries
Shrimp Nachos* – $12
Nachos with southern flair you will absolutely love! Flash Fried Shrimp, House Pico de Gallo & a sweet Thai Chili Sauce completes this cheesy mound of heaven
French Dip* – $15
Shaved Prime Rib marinated in Au Jus, layered with melted Provolone Cheese on a toasted Hoagie Bun. Served with Seasoned Waffle Fries
Cran-Brulee' – $5
Served with our home-made Cranberry Grand Marnier Reduction Sauce
Peanut Butter Chocolate Daydream – $6
Gluten-free Peanut Butter & Chocolate Silk delight
Bread Pudding – $6
Topped with your choice of home-made Whiskey Sauce or Praline
Vanilla Ice Cream – $2
Coke, Diet Coke, Sprite, Diet Sprite, Dr. Pepper & Fuze Raspberry Tea $2.50
Root Beer (Bottle) $3
Tea, Coffee, Lemonade, & Milk $2.50
Iced Tea & Hot Chocolate (seasonal) $2.50
Bottled Water $3
* Note: Consuming raw or undercooked meats may increase your chance of foodborne illness